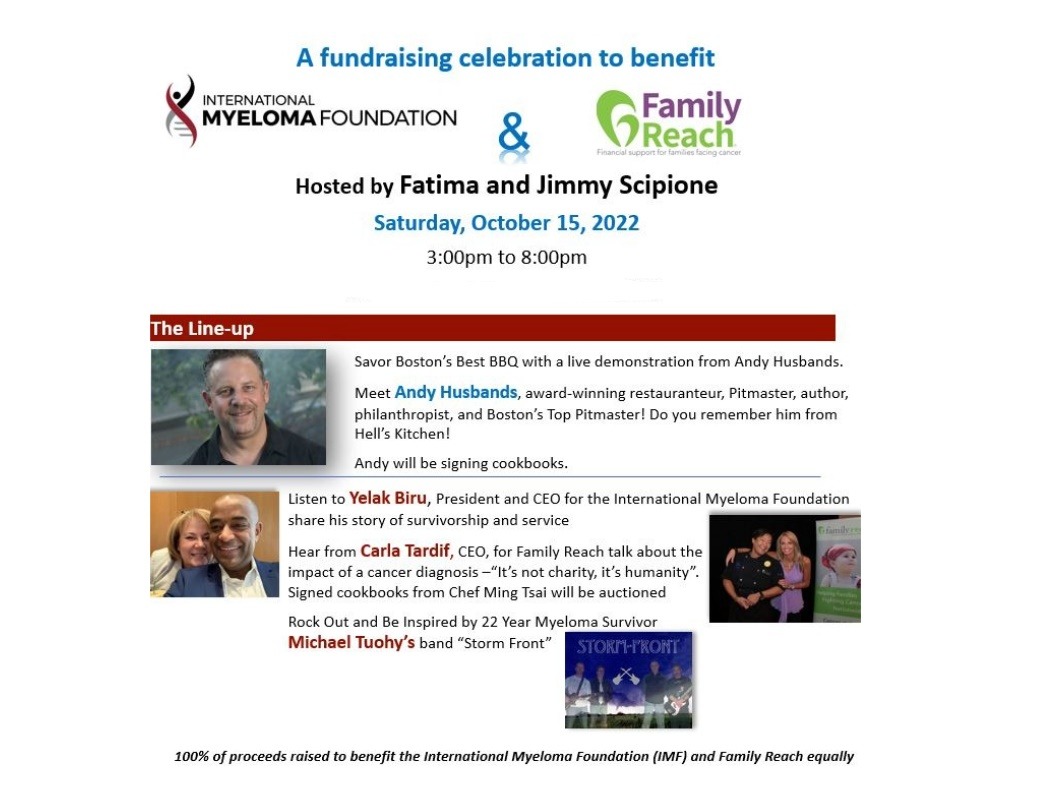 Evening Highlights
We will enjoy a night of good food from Chef Ming Tsai and Chef Andy Husbands.
Savor the best BBQ sauce and Brisket with a live demonstration from Andy Husbands, award-winning restauranteur, Pitmaster, author, philanthropist, and Boston's Top Pitmaster! Do you remember him from Hell's Kitchen!
Come listen to Yelak Biru, President and CEO for the International Myeloma Foundation share his story of survivorship and service.
Hear from Carla Tardif, CEO, for Family Reach talk about the impact of a cancer diagnosis –"It's not charity, it's humanity".
Take home a signed cookbook from Chef Ming Tsai or Chef Andy Husbands with a charitable donation.
Chef Ming Tsai and Chef Andy Husband's will be signing cookbooks in person at the event.
Finish the night by rocking out as well as being inspired by 22 Year Myeloma Survivor Michael Tuohy's band "Storm Front".

For Sponsorship Opportunities Contact Fatima Scipione: [email protected]
If you cannot attend but would like to support our event, you may do so by clicking on the DONATE button above.
Or you can send a check, payable to:
International Myeloma Foundation
Attn: Ilana Kenville
4400 Coldwater Canyon Ave, Suite 300
Studio City, CA 91604
Please notate in the Memo/For Line: Scip & Savor
Proceeds to benefit the International Myeloma Foundation (IMF) and Family Reach