4th Annual Inland Empire Virtual/In Person Walk for Myeloma Miracles
Rancho Cucamonga, CA 91701
Ways To Support Our Event
Register As Participant Or Team Member
Start your fundraising journey here by registering as an individual, joining or starting a team.
Donate To A Participant Or Team
If you are making a donation to support a friend or team, search for that person or team here.
Dear Walkers and Supporters:
It has been a challenge to hold a physical walk since Covid. We are looking forward to hosting our virtual/in person walk
Saturday, September 24, 2022

.
We will also be accepting any additional donations that day. You can opt to walk the trail if you want to get in some exercise, as it is a public trail. Note: Please remember to maintain social distancing at
Central Park
.
Everyone's safety is our top priority.
Thank you so much for your continued support to the
IMF
and our support group. We look forward to seeing you all!
Please join the local Inland Empire and Inland Valley WARRIORS battling multiple myeloma at their Fourth Annual Virtual Walk for Myeloma Miracle fundraiser. We encourage you to Run, Walk, Bike, or Treadmill on your own path to complete the Virtual Walk/In Person for Myeloma Miracles. Choose your virtual/In person walk and complete it at your pace. While we may not be able to ALL walk together let's get together in spirit and support each other and this cause to find a cure for multiple myeloma.
We are dedicating the walk-in memory of:
Steve Kuramoto
Mark McGuthrie
Raymond Schmidt
The IMF is dedicated to raising community awareness, funding critical research, and providing programs locally and nationally for patients and caregivers. International Myeloma Foundation is a non-profit public corporation, a tax-exempt 501(c)(3) organization.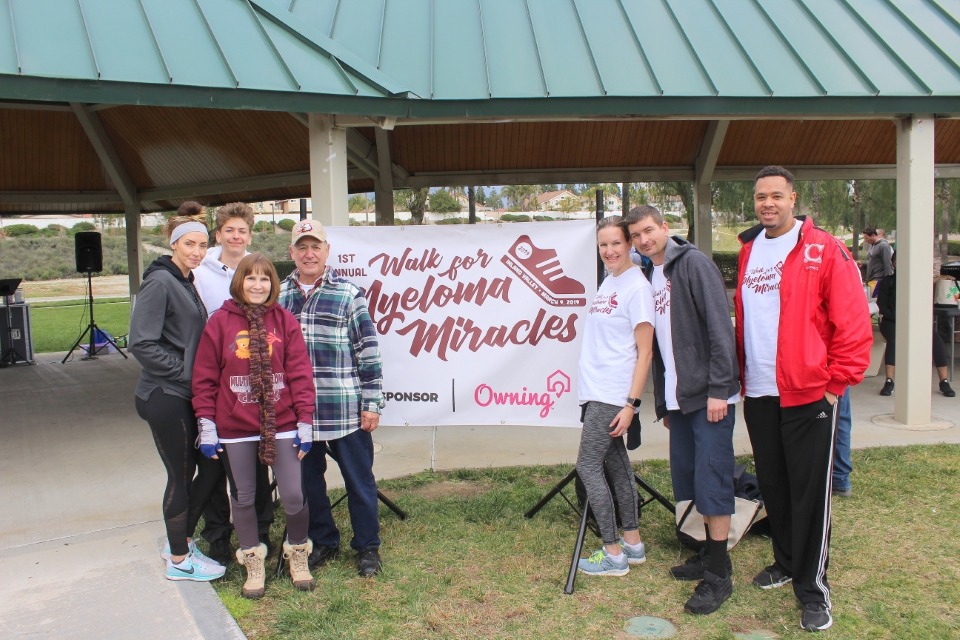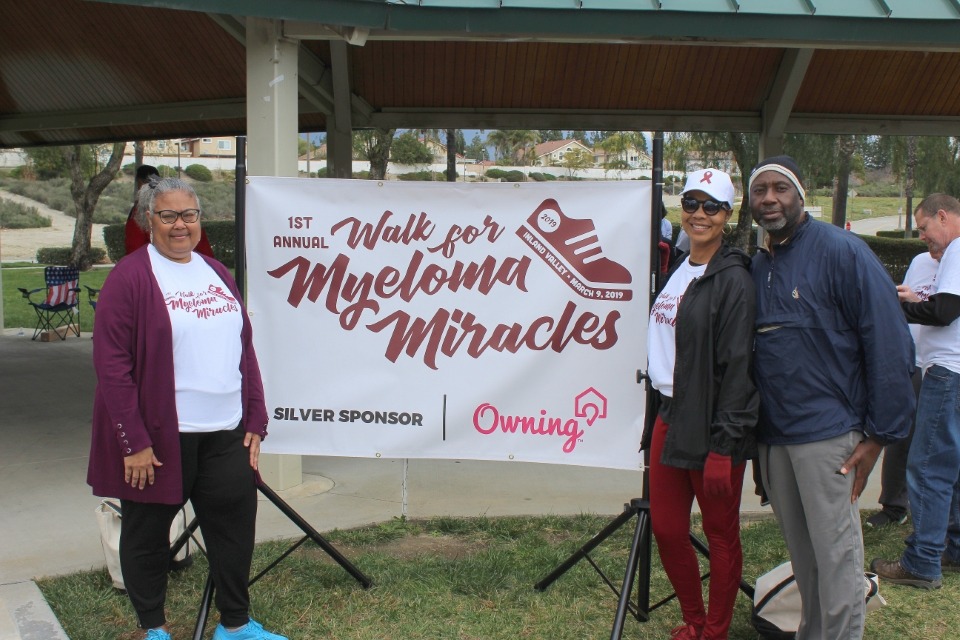 This is not a timed event, it's a casual walk.
The shortest distance on the trail is 2 miles, but participants can opt to go 5 miles. It is also bicycle friendly.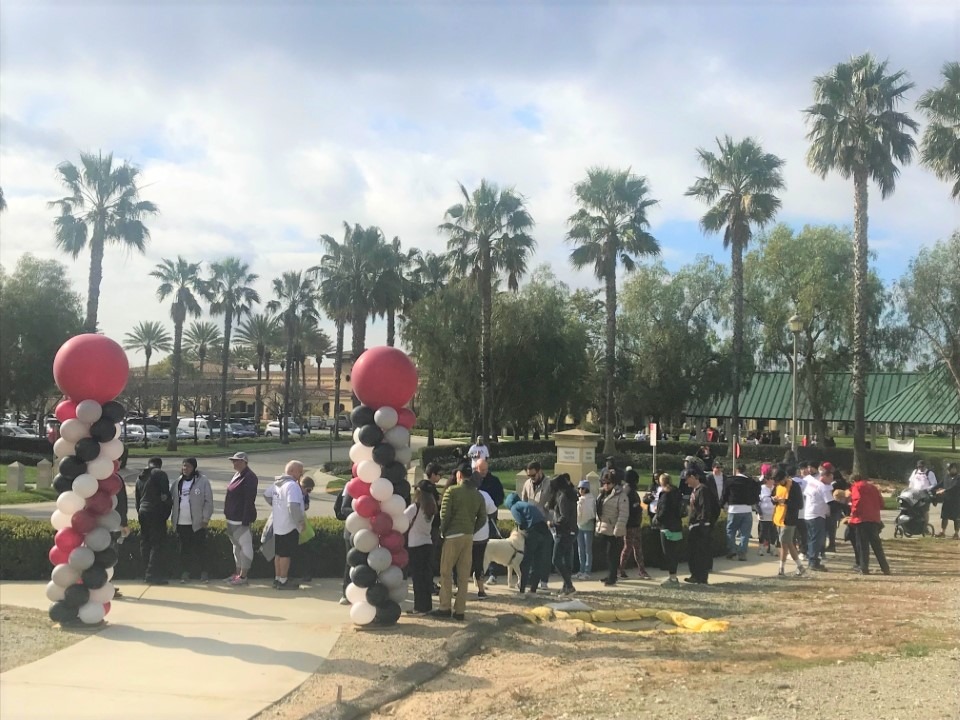 Multiple myeloma is a complex (and often misdiagnosed) cancer of the bone marrow that attacks and destroys bone. In the United States, there are over 1,000 new cases of myeloma diagnosed each month. In the past 30 years, there has been a dramatic (400%) increase in the incidence of multiple myeloma. Once a disease of the elderly, people in their twenties, thirties and forties are now being diagnosed with myeloma.
If you have a question about forming a team or registering to a team
,
click HERE

.
REGISTRATION FOR VIRTUAL/IN PERSON: $25.00
REGISTRATION CLOSES: Friday, September 23, 2022 at 12 Pacific Time
REMEMBRANCE PATH: $25.00
If you cannot attend but would like to show your support, please click on the blue DONATE button above.
In-Kind Donations as well as monetary donations are greatly appreciated. We also have sponsorship opportunities available.
For more information about opportunities, please contact Chairperson, Pam Poliakoff at (951) 201-5993 or by email at
[email protected]
Thank you in advance for contributing to the International Myeloma Foundation
Checks can be made payable to International Myeloma Foundation and mailed to:
International Myeloma Foundation
Attn: Ilana Kenville/Myeloma Miracles
4400 Coldwater Canyon Ave., Suite 300
Studio City, CA 91604
Notate in the Memo Line: Myeloma Miracles
Remembrance Path
Our Remembrance Path is for those who would like to pay tribute to a loved one who has either passed away, is living with multiple myeloma or has touched your life in a positive way. You can make a donation to have a virtual placard to be displayed on our Virtual Remembrance Path online.
This will serve to recognize a survivor or loved one who may have lost their battle but remains in our hearts. These signs will have the person's name and a short personalized note displayed along with your name.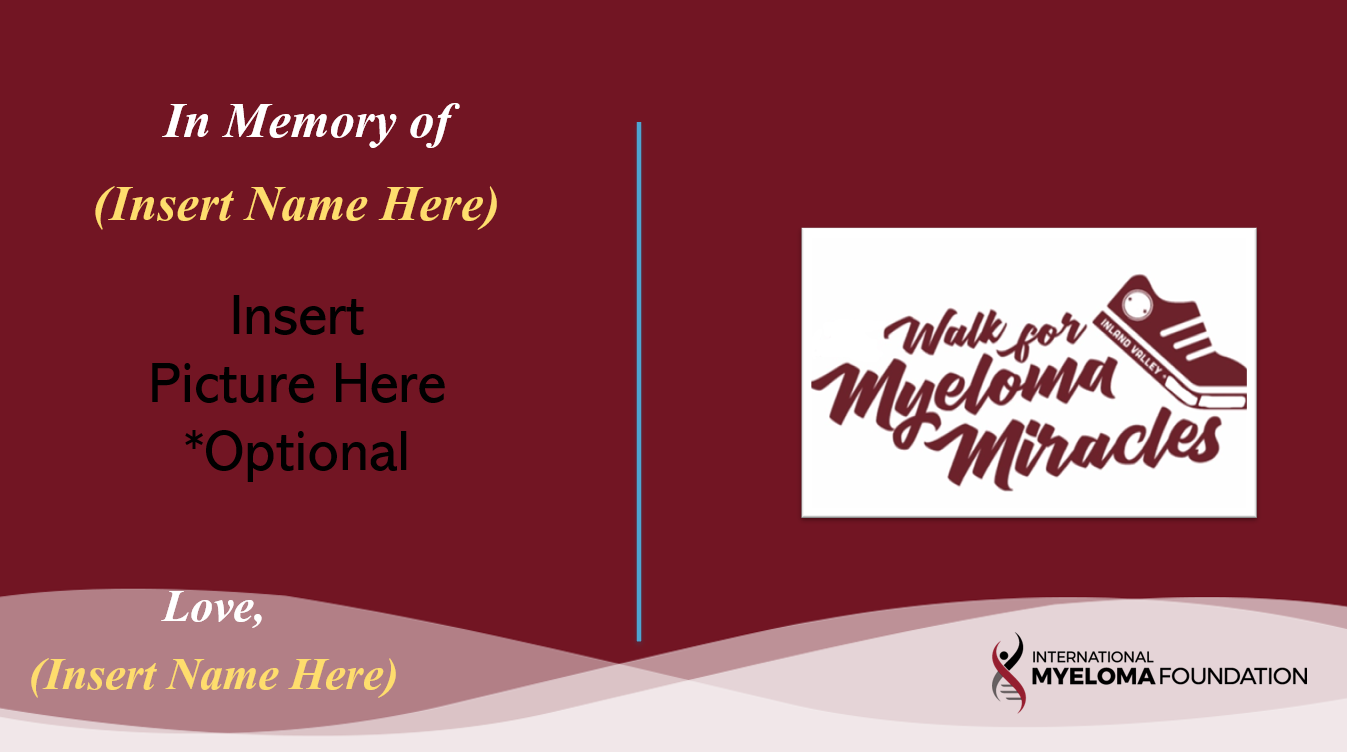 Donors