Raising awareness of Multiple Myeloma while riding a bicycle in 2022.
Riding towards a cure once again.
Where are we going this summer with Covid still with us and Monkey Pox on the rise. Who the heck knows, but I see no reason to sit around. Too many of my friends and myself are still battling Multiple Myeloma which is a blood and bone cancer that still has no cure. New treatments are coming online all the time, so this summer's riding will be done from Canada to the northeast US and more. The more people I reach, the sooner we can see an end to this disease. I can hardly wait for that day to come.
For all my family and friends north of the US border, here is where you can find information.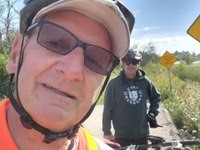 I have been doing these awareness and fundraising rides concerning Multiple Myeloma since 2011. With each mile of these rides on 3 continents, I have carried this cancer in me. I do not know why it has not taken me yet, but each bicycle mile is a gift that makes me happy.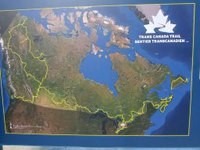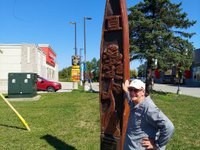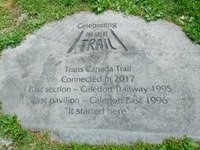 This summer, I'm riding utilizing my folding bike once again. It travels easily with me to destinations where I will be inspired by others who are doing better than me with this disease and others who find the journey daunting, but do not give up. They all keep moving forward, just at different speeds. I keep going at a steady 10+ miles per hour.
You will be able to follow my adventures on my crazy guy on a bike site:
www.crazyguyonabike.com/doc/headingnorth2022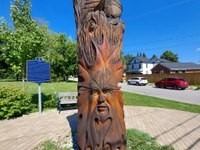 I was in the Midwest and Northeast US and Canada last year and because of Covid I decided to stay closer to my healthcare providers again this year. My family in Canada supports Multiple Myeloma research there through Myeloma Canada and the IMF in the US. I am fortunate to be in year 15 since my diagnosis and still able to think about doing these adventures on a bicycle.
My highlight trips this summer are from Toronto to Sault St. Marie through Owen Sound and Also for the Canada section and Albany, New York where I finished up last year to NYC.
The fun rides of 2021 are over. Check out this IMF support from last fall 2021
Myeloma Today: Fall 2021 | International Myeloma Foundation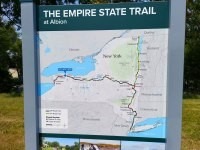 I just finished a IMF podcast interview yesterday which may be released to the web for September's Blood Cancer awareness month. Stay tuned! Mark and Kim and their daughters here in Orangeville have been wonderful to me and I enjoyed riding with them and their students, but I know it is time to move along towards Owen Sound on the Georgian Bay and Manitoulin Island. Please help if you can to improve the lives of those less fortunate. That's why I ride.
See you on the trails',
Andy
Proceeds to benefit the International Myeloma Foundation (IMF)
Donors